Using a combination of found-object assemblage, collage, painting, and drawing, I create large format two-dimensional works, sculptures, and installations that visually and thematically highlight shortcomings in education. My work critiques and connects to issues inside of—and adjacent to—the educational system in America.
Often these ideas originate from images and artifacts associated with schools, students, and learning such as a mark from a crayon or a desk from a classroom. Additionally, I pull from my own experiences and observations from inside the education system. I am deeply inspired by my interactions with students as well as the political, social, and economic climate in our communities; these two constituents, students and their community, cannot be detached.
This work acts as a platform for advocating for educational rights while also providing an outlet for me as I explore my own understanding and values as an educator and a human being.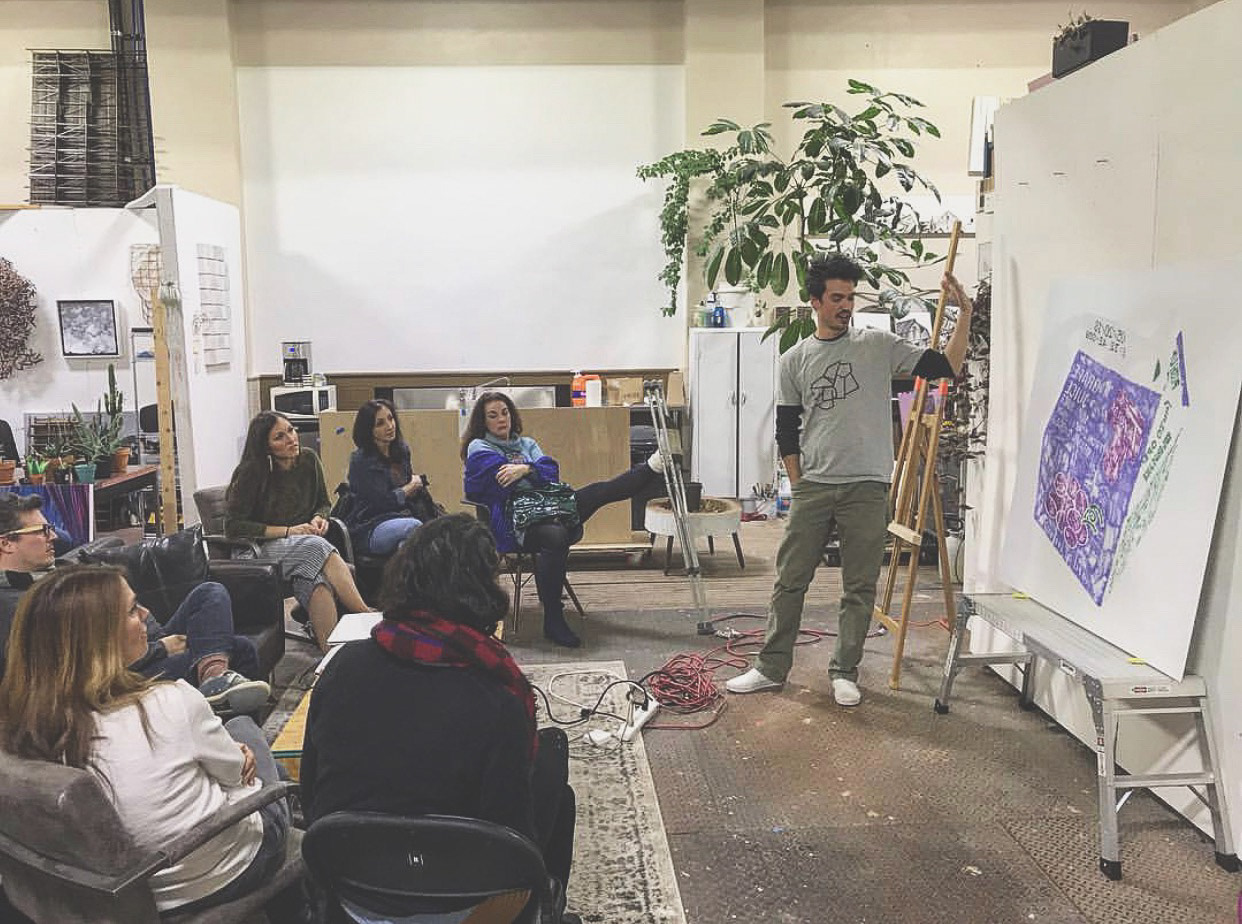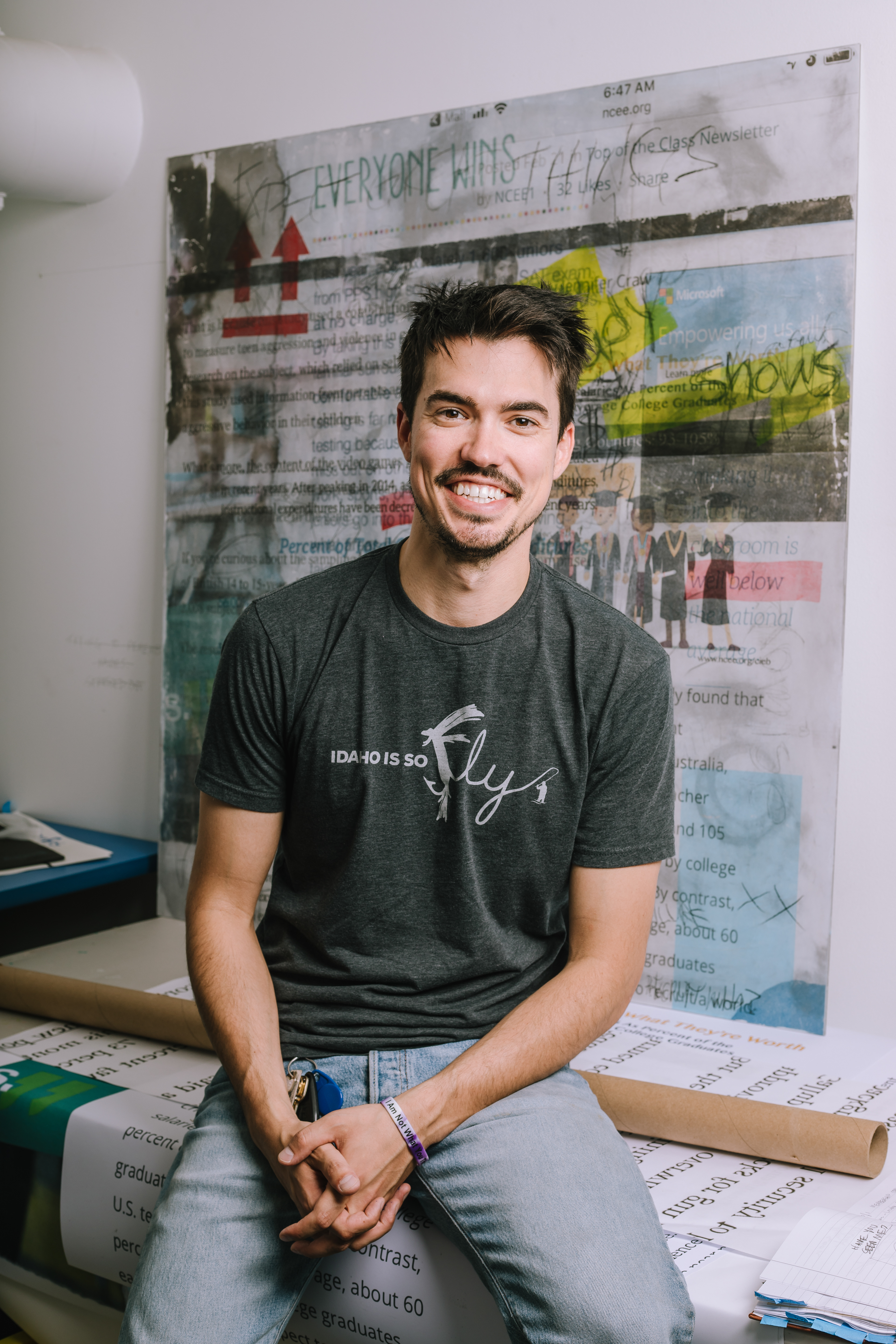 Evan (he/him/his) is a Pittsburgh-based mixed-media artist and art educator. His artwork is a translation of the experiences, observations, and criticisms of the American educational system.
Evan was raised on a sheep farm in Washington-state and graduated from Western Washington University in 2015 as a Presidential Scholar. Since 2017, Evan has been a teacher and practicing artist in Pittsburgh. As an educator he has experience in urban, suburban, and rural schools at all classroom levels; he predominantly specializes in studio arts, ceramics, and animation.  
Evan involves students from local schools and colleges in the planning and fabrication of some of his projects. He has partnered with arts organizations and schools to host artists-in-residence in classrooms of his own and others.  He
 is a member of Associated Artists of Pittsburgh, Pittsburgh Society of Sculptors, and
Radiant Hall Studios. 
Evan typically shows his work in the Pittsburgh-area and the surrounding region.  
RECENT Exhibitions      
(Click button in lower right for full CV)
[Forthcoming] 
Through the Mask
, McCarl Coverlet Gallery, Saint Vincent College, Latrobe, PA
[Forthcoming]
Radiant Ball
- 10th Anniversary, Radiant Hall Studios, McKees Rocks, PA
[Forthcoming]
Full Spectrum,
Brew House Association, Pittsburgh, PA
Art of the State
, State Museum of Pennsylvania, Harrisburg, PA
Eighth & Penn Luxury Apartments - Window Display, Downtown Pittsburgh, PA
INTERACTION NOW
, Robert Morris University Media Arts Gallery, Wheatley Center, Moon, PA
AAP
108th Annual Exhibition,
 Detective Building, Pittsburgh, PA
111 x 111,
 Associated Artists of Pittsburgh Exhibition Space, Pittsburgh, PA
COMPLIANCE, COMPLACENCE, & COMPROMISE,
 Thoughtrobber's Gallery, Pittsburgh, PA
Find Your Way Home
, Associated Artists of Pittsburgh Exhibition Space, Pittsburgh, PA
Radiant Hall Pop-up Market
, Plummer & 45th Street, Pittsburgh, PA
Practice What You Teach
, Penn State: New Kensington Art Gallery, New Kensington, PA
Red Carpet Project
, Gallery One | Collective Works, Pittsburgh, PA
Inspiring Makers
, Manchester Craftsman's Guild, Pittsburgh, PA
Radiant Hall Pop-up Show
, Trust Arts Education Center 4th Floor, Pittsburgh, PA
Radial
, WCCC Gallery, Westmoreland Community College, Youngwood, PA